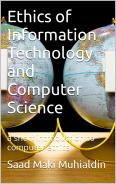 The book i released as Paperback in Arabic and Kindle edition in Swedish
The development of computer systems and networks has led to significant changes that have benefited people worldwide. However, the competition among big companies has led to the production of more powerful and safer development systems to make more money. The lack of ethical principles when using these technologies can result in many risks, creating moral dilemmas that have yet to be studied by ethics and philosophy. The new technological advances have also led to legal loopholes that can be abused, causing significant damages to individuals and society's lives and properties.
information about the book
Sold by: Amazon.com Services LLC
Published on: Apr 13, 2023
Format: Kindle Edition
Price: $1.05
Suitable for all ages
Please note that the prices and availability of these books are based on the information you provided on the Amazon.com webpage, and they may be subject to change.
Published books in Arabic
Saad Wrote a book in Arabic in collaboration with others titled اخلاقيات تكنلوجيا المعلومات والحاسوب, which has the same content as "Ethics of Information Technology and Computer Science: a short introduction to computer ethics," but in Arabic, the book is in 94 pages, Paperback
Published February 18, 2023, by AL Thakera publishing and distribution in Baghdad Iraq
ISBN9789922664842